September 29th,2023 is our 28th annual Problem Gambling Awareness Day. We have been canvassing with local businesses to support the Take a Break Campaign. We thank those businesses that support their customers, employees, and community.
Please stay safe, and take care of yourself physically and your mental health.
Gambling Awareness from 2011 newscast
Would be interesting to see updated data to compare…
State Proclamation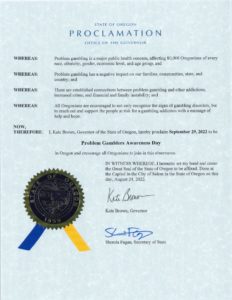 Poem by Nathan
27th Problem Gambling Awareness Day
Virtually
from Connections: Healthy Gambling and Gaming by Evergreen CPG. Season 2, Episode 7 features Ronda and her story on O.G.A.O.
Video by Kelly Lyons 2020

Take a Break Campaign
We are asking that our TAKE A BREAK campaign be observed again, asking those who struggle with gambling addiction to take a step back, check in to make sure if they are gambling they are able to do it responsibly. If they are unable to stick to their money and time limits, that they seek help. If you know someone who struggles, this is the time to start a conversation. There is help, there is hope.
Podcast with Tana Russell of Evergreen Council and Julie Hynes of Oregon Council on Problem Gambling, 2020 https://anchor.fm/connections-podcast